Hotel San Marco
Sèn Pelegrin, 15 - Moena
Sèn Pelegrin, 15
38035 Moena (TN)
Tel. +39 0462 573475
Fax +39 0462 573275
Availability
March 2023
April 2023
May 2023
sab rs25;rs26;ns27;ns28;primo n1;n2;n3;sab r4;r5;n6;n7;n8;n9;n10;sab r11;r12;n13;n14;n15;n16;n17;sab r18;r19;n20;n21;n22;n23;n24;sab r25;r26;n27;n28;n29;n30;n31;primo sab rs1;rs2;ns3;ns4;ns5;ns6;ns7;sab rs8;rs9;ns10;ns11;ns12;ns13;ns14;sab rs15;rs16;ns17;ns18;ns19;ns20;ns21;sab rs22;rs23;ns24;ns25;ns26;ns27;ns28;sab rs29;rs30;primo ns1;ns2;ns3;ns4;ns5;sab rs6;rs7;ns8;ns9;ns10;ns11;ns12;sab rs13;rs14;ns15;ns16;ns17;ns18;ns19;sab rs20;rs21;ns22;ns23;ns24;ns25;ns26;sab rs27;rs28;ns29;ns30;ns31;primo ns1;ns2;sab rs3;rs4;ns5;ns6;ns7;ns8;ns9;sab rs10;rs11;ns12;ns13;ns14;ns15;ns16;sab rs17;rs18;ns19;ns20;ns21;ns22;ns23;sab rs24;rs25;ns26;ns27;ns28;ns29;ns30;primo sab rs1;rs2;ns3;ns4;ns5;ns6;ns7;sab rs8;rs9;ns10;ns11;ns12;ns13;ns14;sab rs15;rs16;ns17;ns18;ns19;ns20;ns21;sab rs22;rs23;ns24;ns25;ns26;ns27;ns28;sab rs29;rs30;ns31;primo ns1;ns2;ns3;ns4;sab rs5;rs6;ns7;ns8
sab d1s;d1s;d1s;d1s;primo d1;d1;d1;sab d1;d1;d1;d1;d1;d1;d1;sab d2;d2;d2;d2;d2;d2;d2;sab d2;d2;d2;d2;d2;d2;d2;sab dp;dp;dp;dp;dp;dp;dp;primo sab dps;dps;dps;dps;dps;dps;dps;sab dps;dps;dps;dxs;dxs;dxs;dxs;sab dxs;dxs;dxs;dxs;dxs;dxs;dxs;sab dxs;dxs;dxs;dxs;dxs;dxs;dxs;sab dxs;dxs;primo dxs;dxs;dxs;dxs;dxs;sab dxs;dxs;dxs;dxs;dxs;dxs;dxs;sab dxs;dxs;dxs;dxs;dxs;dxs;dxs;sab dxs;dxs;dxs;dxs;dxs;dxs;dxs;sab dxs;dxs;dxs;dxs;dxs;primo dxs;dxs;sab dxs;dxs;dxs;dxs;dxs;dxs;dxs;sab dxs;dxs;dxs;dxs;dxs;dxs;dxs;sab dxs;dxs;dxs;dxs;dxs;dxs;dxs;sab dxs;dxs;dxs;dxs;dxs;dxs;dxs;primo sab dps;dps;dps;dps;dps;dps;dps;sab dps;dps;dps;dps;dps;dps;dps;sab d3s;d3s;d3s;d3s;d3s;d3s;d3s;sab d3s;d3s;d3s;d3s;d3s;d3s;d3s;sab dls;dls;dls;primo dls;dls;dls;dls;sab d3s;d3s;d3s;d3s
available
80% availability
50% availability
20% availability
occupied
on offer
closed
Description
Our hotel is situated on the San Pellegrino Pass at an altitude of 1918 m., in the heart of the Dolomites and at only 10 km. from Moena.
In summer our customer finds himself surrounded by vast areas of green pastures, sweet-smelling woods with charming streams and alpine lakes.
In winter wonderful ski-runs, reached by modern skilifts starting off next to the hotel, will take you to a height of 2.600 m.
Our cuisine is particularly cared for and offers a choice of menus with typical national, international and Trentine dishes, accompanied at every meal with rich and inviting hors d'oeuvre and vegetable buffets.
images of interior/exterior
External
« Previous pics
More pictures »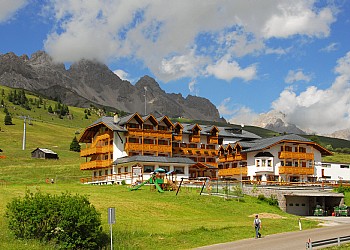 Wellness
« Previous pics
More pictures »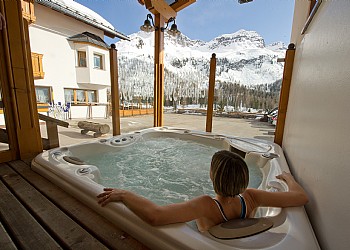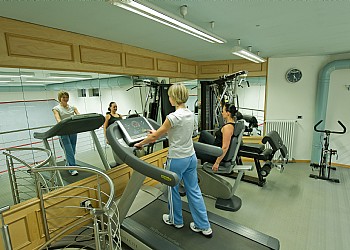 Swinningpool
« Previous pics
More pictures »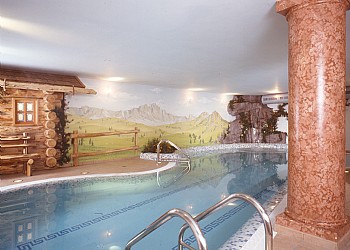 Restaurant
« Previous pics
More pictures »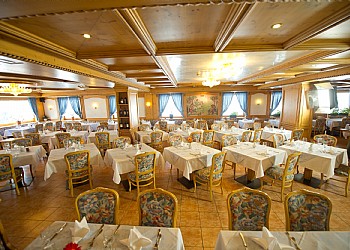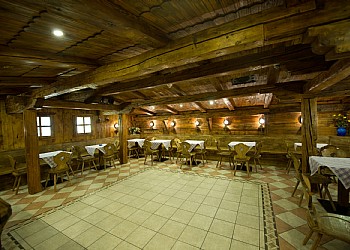 Rooms
« Previous pics
More pictures »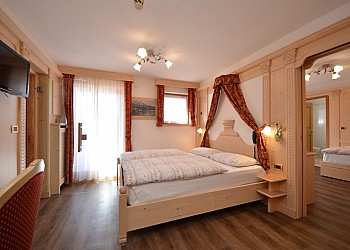 Services offered
General
Buffet breakfast, Suitable for people with disabilities, Recommended for families with children, Lift, Garden, Panorama viewpoint, Private parking, Garage, Motorbike garage, Ski storage, Ski boot dryer, Bicycle storage, Cash cards accepted, Credit cards accepted, Smoking area, Games room, Bar
Relax
Children's toys, Communal room with Satellite TV, Sun terrace, Sunbathing garden, Sun loungers, Hydro massage, Swimming pool, Sauna, Turkish bath, Entertainment, Playground, Tavern
Sport
Gym - fitness centre, Squash, Outdoor football, Outdoor volleyball