Lusia/Passo San Pellegrino ski area
ski lifts and slopes Lusia/San Pellegrino
Lusia Alps - Bellamonte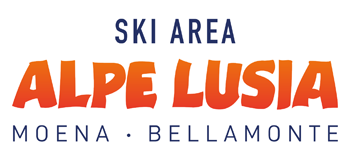 The access points to this fantastic ski area, famous for its wonderful and perfectly snowy slopes and for its cutting-edge ski lifts, are the Ronchi-Valbona-Le Cune cable car, on the mountainside of Moena and the Castelir chairlift-Le Fassane on the mountainside of Bellamonte on the outskirts of the town of Predazzo.
The ski area offers lots of entertainment opportunities for the whole family: 2 school camps, 8 blue ski runs (only one returns to Moena), 4 red runs and 3 black runs; 2 fantastic playground-nurseries, "Babylandia" near the intermediate station of Valbona and "La tana degli gnomi" (the gnomes' lair) at the departure of the Castelir chairlift, where little ones can have hours of fun making new friends whilst playing in the snow or inside, in case of bad weather, and parents can immerse themselves in their skiing without worrying about the kids!; a boardercross and a snowpark for daredevils and those who prefer the adrenalin of acrobatics on the descent; 3 ski-schools, ideal for those who want to learn to ski or perfect their skills or simply want to take part in a group course so that they can ski in company under the watchful eye of the instructor. These are also for those who want to try their hand at a new sport such as snowboarding, telemark skiing and carving or wish to go on outings with snowshoes or alpine skis; lastly there are lots of fantastic mountain refuges where visitors can taste lots of local delicacies at high-altitude and enjoy moments of relaxation after a day packed full of sport.
San Pellegrino Pass - Falcade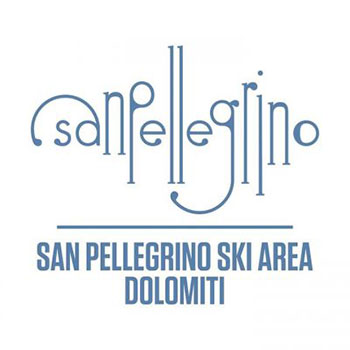 A magnificent panorama and side sun-kissed slopes: the two main elements that characterise this area, a veritable paradise for the whole family, equipped with modern ski lifts and runs of varying lengths and skill levels and directly linked to the nearby ski area of Falcade by the Col Margherita cable car which transports skiers and visitors up to 2,514 m to admire one of the most spectacular 360° panoramas of the Dolomiti Superski.

Collectively, the two areas have 7 ski-schools, 13 blue runs, 15 red runs, 4 black runs and 2 snowparks. Here too, the journey from Moena is served by an extremely efficient skibus service which stops in Lusia and terminates in San Pellegrino. There are lots of ski hire services available, as well as ski-schools, 2 on the Pass and 3 in the Bellunese area. Children can have fun sledging in the areas around the ski slopes and also have a good time playing in the ski park "Kids Paradise", next to the mountain refuge Cima Uomo. Once again, those who don't like skiing can go on excursions on foot or on horseback around the Fuciade area, or use snowshoes or alpine skis and take a break and get together with friends at the various refreshment points and mountain huts which will warm you up or be a lovely finish to an unforgettable day.

For those interested in Nordic skiing, there is the Alochet cross-country center which is located between Lusia and San Pellegrino and offers great runs immersed in the splendour of the forest which is home to a cross-country ski-school for those wishing to learn and improve their skills in this sport.
Lusia/San Pellegrino skipass prices, valid for Lusia-Bellamonte and San Pellegrino-Falcade.
Dolomiti Superski skipass prices, valid for all areas of the Dolomiti Superski Carousel.