Moena holidays for children
MOENA... A FAIRYTALE FOR CHILDREN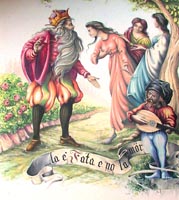 A peaceful town situated in a large sunny bowl that is home to the Sella and Catinaccio mountain groups. Moena is currently the only town in the Fassa Valley to have a traffic-limited town center. Take a walk with your family in the squares, relax in the terraced bars and enjoy musical events without the constant disturbance of traffic.
We are always thinking about children.
For this, we have developed a holiday that is full of fun events for them, for playing, learning, getting close to nature and experiencing the light-heartedness of a holiday immersed in fields and forests.
The children's programme is divided into 4 main activity groups:
• the Fiabilandia Park;
• events;
• themed weeks;
• outdoor activities.
Children will never get bored in Moena!!!
Let them spend the day with us… when they return home they will be so happy and have so many new experiences to remember!