Residence Lasté
Strada de Dosbudon, 8 - Moena
Strada de Dosbudon, 8
38035 Moena (TN)
Tel. +39 0462 573300
Cell. +39 333 6491486
Fax +39 0462 573300
Availability
October 2020
November 2020
December 2020
rs27;ns28;ns29;ns30;primo n1;n2;sab r3;r4;n5;n6;n7;n8;n9;sab r10;r11;n12;n13;n14;n15;n16;sab r17;r18;n19;n20;n21;n22;n23;sab r24;r25;n26;n27;n28;n29;n30;sab r31;primo rs1;ns2;ns3;ns4;ns5;ns6;sab rs7;rs8;ns9;ns10;ns11;ns12;ns13;sab rs14;rs15;ns16;ns17;ns18;ns19;ns20;sab rs21;rs22;ns23;ns24;ns25;ns26;ns27;sab rs28;rs29;ns30;primo ns1;ns2;ns3;ns4;sab rs5;rs6;ns7;ns8;ns9;ns10;ns11;sab rs12;rs13;ns14;ns15;ns16;ns17;ns18;sab rs19;rs20;ns21;ns22;ns23;ns24;ns25;sab rs26;rs27;ns28;ns29;ns30;ns31;primo ns1;sab rs2;rs3;ns4;ns5;ns6;ns7;ns8;sab rs9;rs10;ns11;ns12;ns13;ns14;ns15;sab rs16;rs17;ns18;ns19;ns20;ns21;ns22;sab rs23;rs24;ns25;ns26;ns27;ns28;ns29;sab rs30;rs31;primo ns1;ns2;ns3;ns4;ns5;sab rs6;rs7;ns8;ns9;ns10;ns11;ns12;sab rs13;rs14;ns15;ns16;ns17;ns18;ns19;sab rs20;rs21;ns22;ns23;ns24;ns25;ns26;sab rs27;rs28;primo ns1;ns2;ns3;ns4;ns5;sab rs6;rs7;ns8;ns9;ns10
dls;dls;dls;dls;primo dl;dl;sab dl;dl;dl;dl;dl;dl;dl;sab dl;dl;dl;dl;dl;dl;dl;sab dl;dl;dl;dl;dl;dl;dl;sab dl;dl;dl;dl;dl;dl;dl;sab dl;primo dls;dls;dls;dls;dls;dls;sab dls;dls;dls;dls;dls;dls;dls;sab dls;dls;dls;dls;dls;dls;dls;sab dls;dls;dls;dls;dls;dls;dls;sab dls;dls;dls;primo dls;dls;dls;dls;sab dos;dos;dos;dos;dos;dos;dos;sab dos;dos;dos;dos;dos;dos;dos;sab dos;dos;dos;dos;dos;dos;dos;sab dos;dos;dos;dos;dos;dos;primo dos;sab dls;dls;dls;dls;dls;dls;dls;sab dos;dos;dos;dos;dos;dos;dos;sab dls;dls;dls;dls;dls;dls;dls;sab dls;dls;dls;dls;dls;dls;dls;sab dls;dls;primo dls;dls;dls;dls;dls;sab dls;dls;dls;dls;dls;dls;dls;sab dls;dls;dls;dls;dls;dls;dls;sab dls;dls;dls;dls;dls;dls;dls;sab dls;dls;primo dls;dls;dls;dls;dls;sab dls;dls;dls;dls;dls
dls;dls;dls;dls;primo dl;dl;sab dl;dl;dl;dl;dl;dl;dl;sab dl;dl;dl;dl;dl;dl;dl;sab dl;dl;dl;dl;dl;dl;dl;sab dl;dl;dl;dl;dl;dl;dl;sab dl;primo dls;dls;dls;dls;dls;dls;sab dls;dls;dls;dls;dls;dls;dls;sab dls;dls;dls;dls;dls;dls;dls;sab dls;dls;dls;dls;dls;dls;dls;sab dls;dls;dls;primo dls;dls;dls;dls;sab dls;dls;dls;dls;dls;dls;dls;sab dls;dls;dls;dls;dls;dls;dls;sab dls;dls;dls;dls;dls;dls;dls;sab dls;dls;dls;dls;dls;dls;primo dls;sab dls;dls;dls;dls;dls;dls;dls;sab dos;dos;dos;dos;dos;dos;dos;sab dls;dls;dls;dls;dls;dls;dls;sab dos;dos;dos;dos;dos;dos;dos;sab dls;dls;primo dls;dls;dls;dls;dls;sab dls;dls;dls;dls;dls;dls;dls;sab dls;dls;dls;dls;dls;dls;dls;sab dls;dls;dls;dls;dls;dls;dls;sab dls;dls;primo dls;dls;dls;dls;dls;sab dls;dls;dls;dls;dls
dls;dls;dls;dls;primo dl;dl;sab dl;dl;dl;dl;dl;dl;dl;sab dl;dl;dl;dl;dl;dl;dl;sab dl;dl;dl;dl;dl;dl;dl;sab dl;dl;dl;dl;dl;dl;dl;sab dl;primo dls;dls;dls;dls;dls;dls;sab dls;dls;dls;dls;dls;dls;dls;sab dls;dls;dls;dls;dls;dls;dls;sab dls;dls;dls;dls;dls;dls;dls;sab dls;dls;dls;primo dls;dls;dls;dos;sab dos;dos;dos;dls;dls;dls;dls;sab dls;dls;dls;dls;dls;dls;dls;sab dls;dls;dls;dls;dls;dls;dls;sab dls;dls;dls;dls;dls;dls;primo dls;sab dls;dls;dls;dls;dls;dls;dls;sab dos;dos;dos;dos;dos;dos;dos;sab dls;dls;dls;dls;dls;dls;dls;sab dls;dls;dls;dls;dls;dls;dls;sab dls;dls;primo dls;dls;dls;dls;dls;sab dls;dls;dls;dls;dls;dls;dls;sab dls;dls;dls;dls;dls;dls;dls;sab dls;dls;dls;dls;dls;dls;dls;sab dls;dls;primo dls;dls;dls;dls;dls;sab dls;dls;dls;dls;dls
dls;dls;dls;dls;primo dl;dl;sab dl;dl;dl;dl;dl;dl;dl;sab dl;dl;dl;dl;dl;dl;dl;sab dl;dl;dl;dl;dl;dl;dl;sab dl;dl;dl;dl;dl;dl;dl;sab dl;primo dls;dls;dls;dls;dls;dls;sab dls;dls;dls;dls;dls;dls;dls;sab dls;dls;dls;dls;dls;dls;dls;sab dls;dls;dls;dls;dls;dls;dls;sab dls;dls;dls;primo dls;dls;dls;dls;sab dls;dls;dls;dls;dls;dls;dls;sab dls;dls;dls;dls;dls;dls;dls;sab dls;dls;dls;dls;dls;dls;dls;sab dls;dls;dls;dls;dls;dls;primo dls;sab dls;dls;dls;dls;dls;dls;dls;sab dls;dls;dls;dls;dls;dls;dls;sab dos;dos;dos;dos;dos;dos;dos;sab dos;dos;dos;dos;dos;dos;dos;sab dls;dls;primo dls;dls;dls;dls;dls;sab dls;dls;dls;dls;dls;dls;dls;sab dls;dls;dls;dls;dls;dls;dls;sab dls;dls;dls;dls;dls;dls;dls;sab dls;dls;primo dls;dls;dls;dls;dls;sab dls;dls;dls;dls;dls
dls;dls;dls;dls;primo dl;dl;sab dl;dl;dl;dl;dl;dl;dl;sab dl;dl;dl;dl;dl;dl;dl;sab dl;dl;dl;dl;dl;dl;dl;sab dl;dl;dl;dl;dl;dl;dl;sab dl;primo dls;dls;dls;dls;dls;dls;sab dls;dls;dls;dls;dls;dls;dls;sab dls;dls;dls;dls;dls;dls;dls;sab dls;dls;dls;dls;dls;dls;dls;sab dls;dls;dls;primo dls;dls;dls;dls;sab dls;dls;dls;dls;dls;dls;dls;sab dls;dls;dls;dls;dls;dls;dls;sab dls;dls;dls;dls;dls;dls;dls;sab dos;dos;dos;dos;dos;dos;primo dos;sab dls;dls;dls;dls;dls;dls;dls;sab dls;dls;dls;dls;dls;dls;dls;sab dls;dls;dls;dls;dls;dls;dls;sab dls;dls;dls;dls;dls;dls;dls;sab dls;dls;primo dls;dls;dls;dls;dls;sab dls;dls;dls;dls;dls;dls;dls;sab dls;dls;dls;dls;dls;dls;dls;sab dls;dls;dls;dls;dls;dls;dls;sab dls;dls;primo dls;dls;dls;dls;dls;sab dls;dls;dls;dls;dls
dls;dls;dls;dls;primo dl;dl;sab dl;dl;dl;dl;dl;dl;dl;sab dl;dl;dl;dl;dl;dl;dl;sab dl;dl;dl;dl;dl;dl;dl;sab dl;dl;dl;dl;dl;dl;dl;sab dl;primo dls;dls;dls;dls;dls;dls;sab dls;dls;dls;dls;dls;dls;dls;sab dls;dls;dls;dls;dls;dls;dls;sab dls;dls;dls;dls;dls;dls;dls;sab dls;dls;dls;primo dls;dls;dls;dls;sab dls;dls;dls;dls;dls;dls;dls;sab dls;dls;dls;dls;dls;dls;dls;sab dls;dls;dls;dls;dls;dls;dls;sab dls;dls;dls;dls;dls;dls;primo dls;sab dls;dls;dls;dls;dls;dls;dls;sab dls;dls;dls;dls;dls;dls;dls;sab dos;dos;dos;dos;dos;dos;dos;sab dos;dos;dos;dos;dos;dos;dos;sab dls;dls;primo dls;dls;dls;dls;dls;sab dls;dls;dls;dls;dls;dls;dls;sab dos;dos;dos;dos;dos;dos;dos;sab dls;dls;dls;dls;dls;dls;dls;sab dls;dls;primo dls;dls;dls;dls;dls;sab dls;dls;dls;dls;dls
dls;dls;dls;dls;primo dl;dl;sab dl;dl;dl;dl;dl;dl;dl;sab dl;dl;dl;dl;dl;dl;dl;sab dl;dl;dl;dl;dl;dl;dl;sab dl;dl;dl;dl;dl;dl;dl;sab dl;primo dls;dls;dls;dls;dls;dls;sab dls;dls;dls;dls;dls;dls;dls;sab dls;dls;dls;dls;dls;dls;dls;sab dls;dls;dls;dls;dls;dls;dls;sab dls;dls;dls;primo dls;dls;dls;dls;sab dls;dls;dls;dls;dls;dls;dls;sab dls;dls;dls;dls;dls;dls;dls;sab dos;dos;dos;dos;dos;dos;dos;sab dls;dls;dls;dls;dls;dls;primo dls;sab dls;dls;dls;dls;dls;dls;dls;sab dls;dls;dls;dls;dls;dls;dls;sab dls;dls;dls;dls;dls;dls;dls;sab dls;dls;dls;dls;dls;dls;dls;sab dls;dls;primo dls;dls;dls;dls;dls;sab dls;dls;dls;dls;dls;dls;dls;sab dos;dos;dos;dos;dos;dos;dos;sab dos;dos;dos;dos;dos;dos;dos;sab dls;dls;primo dls;dls;dls;dls;dls;sab dls;dls;dls;dls;dls
available
occupied
to be confirmed
on offer
closed
Description
Residence Lastè is a little holiday complex built in typical mountain style. It is located in Moena, at the foot of the Dolomites. From the village of Moena you can easily reach the major ski stations in both the Val di Fassa and the Val di Fiemme in 20 minutes.
Here is a list of the ski areas that you can reach in a few minutes:
LUSIA-BELLAMONTE (2 Km)
LATEMAR-OBEREGGEN-PAMPEAGO (5 km)
S.PELLEGRINO-TREVALLI (9 km)
CATINACCIO and BUFFAURE (10 Km)
SELLARONDA (10 min. by car)
ALPE CERMIS (20 min by car)
Our house is at walking distance of about 350 mt from the town centre and 100 mt far from the nearest ski-bus stop.
The house is surrounded by a large and equipped garden and all of the seven apartments are furnished with all comforts: they have from 2 to 5 beds, a fully equipped kitchen with oven, microwave, crockery and cosy dinner corner, and a large balcony with deckchairs, wireless Internet connection, TV sat, thelepone and safe.
Our guests can access the ground-floor, where swimming-pool, sauna, infrared sauna, games-room and laundry-ironing room are provided. At their disposal is also a welcoming lounge with garden view.
For each apartment is available one car park in our garage, where are also provided a ski boot drier and some mountain-bikes for the summer excursions of guests.
images of interior/exterior
Gallery
« Previous pics
More pictures »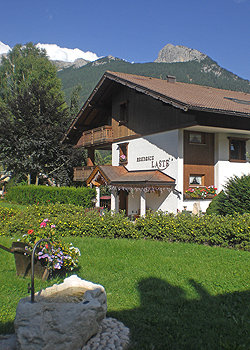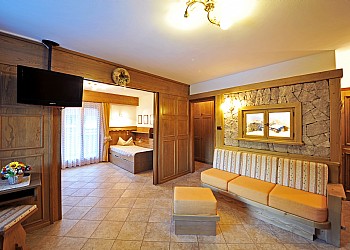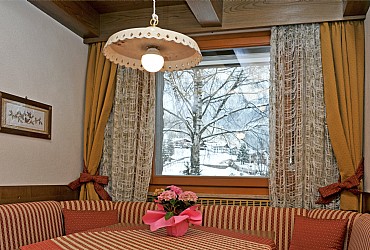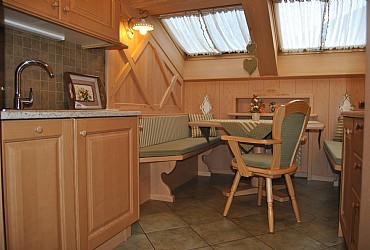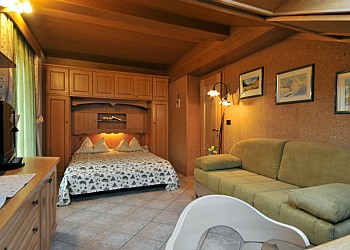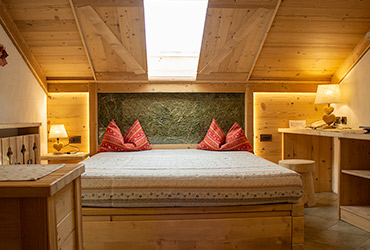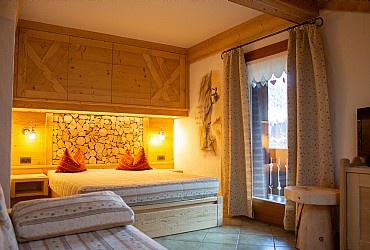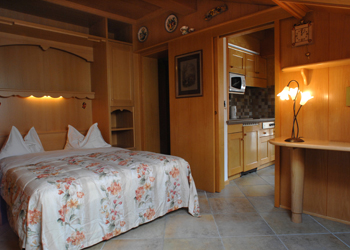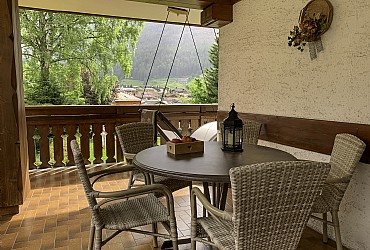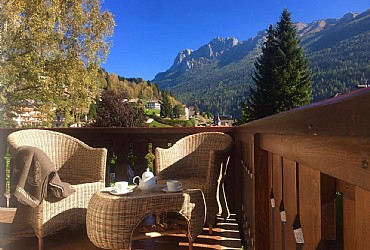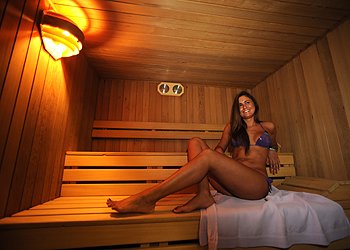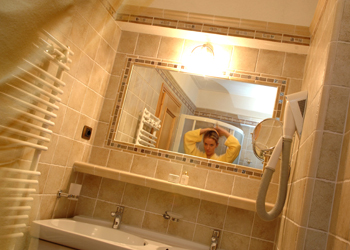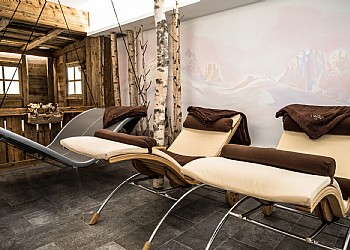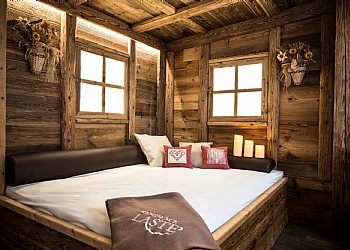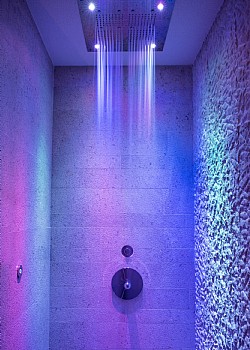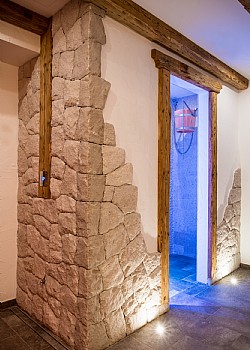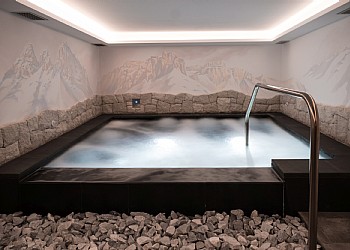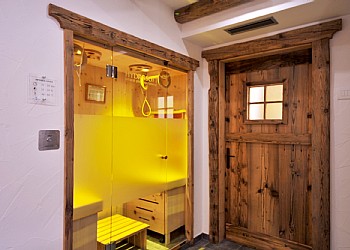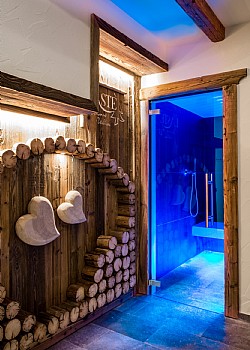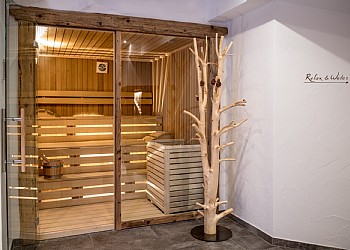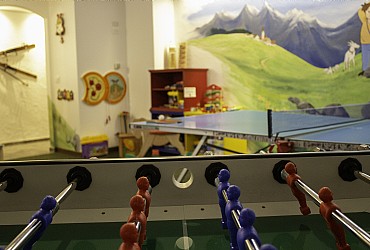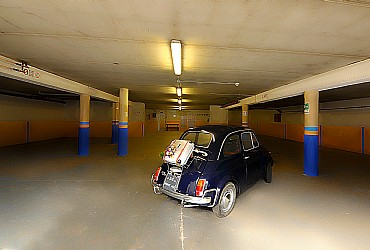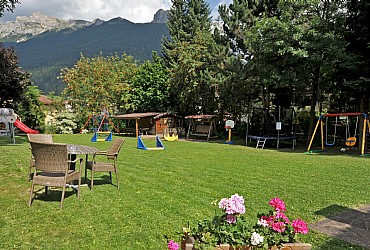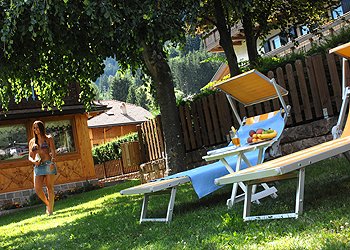 Services offered
General
Pets permitted, Suitable for people with disabilities, Recommended for families with children, Garden, BBQ, Panorama viewpoint, Private parking, Garage, Motorbike garage, Bed linen, Cots, Children's toys, Communal room with TV, Communal room with Satellite TV, Laundrette, Ski storage, Ski boot dryer, Guest bicycles, Bicycle storage, Safe facility
Relax
Sunbathing garden, Sun loungers, Hydro massage, Sauna, Turkish bath, Massages, Games room, Playground
Sport
Gym - fitness centre, Ping pong, Outdoor football